Getting Started in Autocross
Preparing Myself
Most of our autocrosses are held during the summer months, and it is strongly suggested to bring the following items to make the event enjoyable.
Water (lots of it)
Sunscreen
Food (we will have two small breaks between heats and a lunch break to refuel ourselves.
Something to sit on  (folding chair)
Something for shade (umbrella, tent, etc)
Bring a Certified Helmet, if you do not have one we do have loaner helmets you can share with other drivers but we strongly suggest investing in your own helmet. You can download a guide here.
The Correct Way to Display your Car Number and Class Letters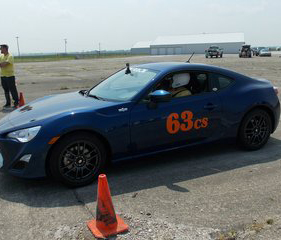 Preparing My Car
Bring some tools (tire wrench, tire gauge, misc tools to make minor fixes if something decides to break)
If you plan on hitting cones, bring blue painters tape to prevent scuffs (front fender).
Bring car numbers and class letters. All cars must have numbers approx. 4″ tall by 1″ wide and class letters should be 2″ tall and 1″ wide, and displayed on both sides of vehicle. If you don't have magnets, you blue tape will also work.
Removing all loose items, including floormats, water bottles, and literally anything that may move around during turns.
Tires must have life left in them. No cracking, or cords showing.
Adequate tire air pressure. (We recommend no less than 35 psi)
Event Flow
Minor release forms to be downloaded and completed if you're a minor and your parent won't be with you.
Begin at Tech. Present you car in a ready-to-run state.
Take registration card, driver's license, proof of SCCA membership, and money to the club trailer.
Walk the course.
Run or work the first time.
Switch
Break
Run or work the second time.
Switch
At end of day, help pick-up and pack-up
Trophies for guests.