The Mid-American Air Center(MAAC), or known by the club members as "Lawrenceville", is our main autocross facility located in Lawrenceville, Illinois.
Some features of this venue include:
Our portion of concrete is rather large by most autocross course standards, allowing most setups to provide runs in the one minute range.
Configurations can include an Event Marshall's choice of multiple slalom areas, room for Chicago boxes, increasing or decreasing radius turns, "Choose Your Own Adventure" loops, crossovers, and much more.
Our Timing and Scoring is housed in a moveable trailer, so start and finish line can move around to suit the Event Marshall's plans for the day's course.
Plenty of room for car haulers and multiple ground anchors are available in paddock for securing a tent.
Unless specifically mentioned on the Calendar of Events, the time schedule for MAAC events is:
(All times listed below are Central. If you are going to be late call Paul @ 270-314-9069)
9:30 AM – Course Setup
10:00 AM – Tech Inspection opens
10:30 AM – Registration opens
11:30 AM – Tech Inspection CLOSES!
12:00 Noon – Registration CLOSES!
12:10 PM – Guided Course Walk, open to all but "new to autocross" people are strongly encouraged to participate. Walk begins at the Staging Line.
12:45 PM – Driver's Meeting
1:00 PM – First car off!
Course Planning Map: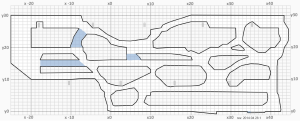 Click Map for Larger View
Map of MAAC: